Cycling and cycle racing
Cycling in Limburg
For the best cycle routes, southern Limburg is the place to be! And what is a better place to start and end at Camping de Cauberg on the highest point of the most famous "cycling mountain" in The Netherlands, the Cauberg.
There is a good site for cycling routes in the direct surroundings: www.visitzuidlimburg.nl Almost all routes pass the Cauberg, so it is really easy to start and finish here, too.
Nederland fietsland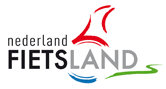 Cyclists welcome ! All things that make cycling in The Netherlands to attractive are bundled together by Landelijk Fietsplatform on this website.